A nice article on the shop, however the telephone number listed is wrong.
Our correct telephone number is 724 748 4058 (I have corrected this in the body, but it is wrong in the link)
http://www.lancasterfarming.com/farm_life/antiques_and_history/antique-clocks-expert-shares-shop-space-with-herbalist-wife/article_b0b39fdb-39be-581b-856f-bf06f46e4723.html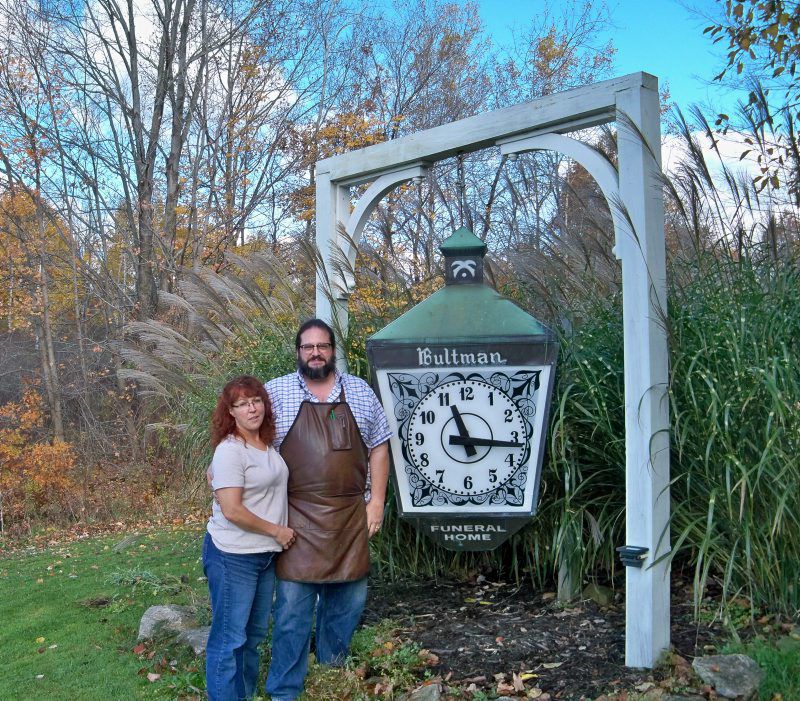 MERCER, Pa. — A visit to Pine Knoll Clock Shop and Pine Knoll Herb Shop provides stimulation to all of the senses.
Even from the parking area, the chimes of a carillon call out musically as visitors get an up-close look at a large, antique New Orleans clock that was restored at the shop after being devastated by Hurricane Katrina.
The curious visitor's nose is greeted with a potpourri of aromas upon entering the quaint little shop nestled next to the home of Dorrin and Patty Mace. Both the aromas and the ticking of a large array of timepieces compete for attention while visitors stroll through the shop.
The Maces have taken their two diverse passions and have built a multifaceted business along State Route 58, east of Mercer.
Dorrin Mace has been involved with the repair, restoration and building of clocks for over 35 years. Over the years, he has completed courses and attained certifications that qualify him as a horologist. According to Dorrin, a horologist has an understanding of time and clock movements. He also can determine what may be wrong with a timepiece and works to restore the clock to its original function.
Clock owners from a wide geographic area seek out Pine Knoll Clock Shop to have their treasured antique clocks repaired and restored.
Dorrin Mace works on clocks that range from antique ones to modern clocks made from repurposed items. He saves all old clocks for the parts, which he can use later to refurbish another piece.
"When I first opened my shop, I could call on 10 suppliers for parts or clock movements," he said. "Today there are only two."
It is not unusual for him to be researching for parts with people in England or Germany via Skype, an internet video conferencing service.
He enjoys talking with the customers but is the most in his element at his worktable. There, he is surrounded by all kinds of clocks.
When he is not repairing items for customers, he is creating new clocks by repurposing things like tin ceiling tiles or saw blades. He has created unique timepieces from window sashes.
Dorrin Mace loves to tell stories. Many of the old clocks in the shop have unique histories but none quite like the Bultman Funeral Home clock from New Orleans. The Bultman family operated Bultman Funeral Home from 1883 to 2005. Hurricane Katrina caused the closure of the business and the assets were put up for auction.
A Michigan collector purchased the clock. The collector decided that he really didn't care for the clock and it would require too much work to be restored.
The clock was again put up for sale. Dorrin Mace purchased the clock in September 2011 to save it from going to a scrap yard.
After restoring the clock and mounting it in front of his shop, he researched the original owners. Dorrin learned that the clock was from the 1940s and was displayed in front of the large, stately funeral home. Famous playwright Tennessee Williams had even stayed in a third-floor apartment at the funeral home while he wrote one of his plays, "Suddenly Last Summer."
While about two-thirds of the Pine Knoll shop is devoted to clocks, an herbal business operated by Dorrin's wife, Patty Mace, takes up the rest of the small space.
Patty has developed the skills of finding just the right herbs to meet her customers' needs. Whether their needs are culinary or medicinal, she can provide what is needed.
"I neither can prescribe or diagnose," Patty Mace said. "And I don't want to. But, I can recommend what traditionally has been used by people over the ages."
Patty Mace also makes soaps from a shea butter recipe and sells them in the herb shop.
"I grow herbs for my own use," she said. "But, I don't sell the herbs that I grow."
Patty Mace also has a large collection of fair-trade African market baskets that hang from the shop ceiling for sale. She said fair trade is important to her because it ensures that the weavers are properly compensated for their work, and a portion of each basket sale goes to a nonprofit that aids the African weavers and their families with daily needs, health care and clean water.
Patty and Dorrin Mace not only sell their wares in their shop, but also at arts and craft festivals. Patty Mace sets up a booth at a variety of festivals, shows and markets including The Pennsic War, an annual event hosted by the Society for Creative Anachronism at nearby Coopers' Lake, in Slippery Rock. This medieval reenactment includes a marketplace with nearly 200 vendors. Patty Mace has learned this is a great place to sell her wares.
"Dorrin tried to market his clocks at the festival," she said. "(But) he learned that the dust from the roadway outside the tent created additional work following the event."
Dorrin Mace participates in a Christmas market in Ohio where his clocks created with repurposed items are popular with visitors of this two-weekend event.
As the Maces look to the future, they plan to add more storage and additional workshop space in 2018. They envision their businesses growing, and they plan to expand slowly to meet the needs of their unique clientele.
For more information, email
pineknoll@zoominternet.net
or call 724-748-4058. The shop address is 1749 Mercer Grove City Road, Mercer, PA 16137.
Carol Ann Gregg is a freelance writer in western Pennsylvania.