A recent newspaper article on Pine Knoll Clock Shop:
Tempus fugit: Pine Knoll Clock Shop to mark its 7,884,000-minute anniversary
By Dorrin K. Mace Horologist, Certified Antiques Appraiser, Pine Knoll Clock Shop 28 Feb, 2016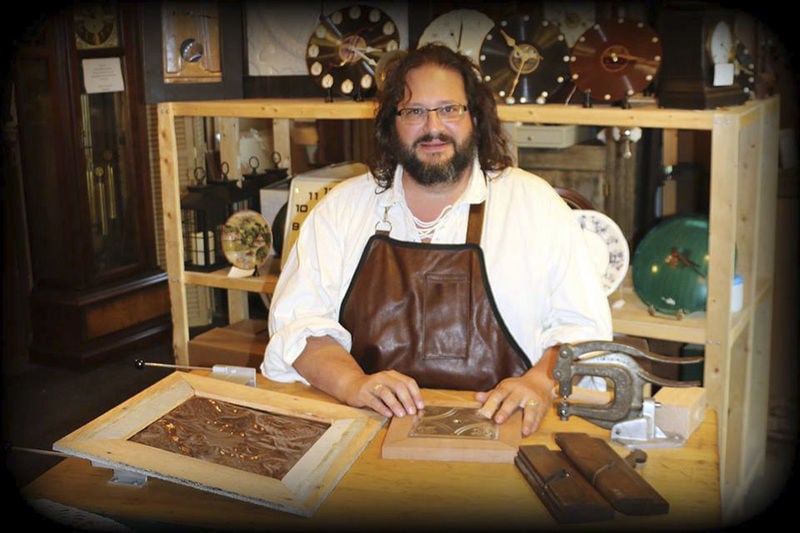 GROVE CITY – 2015 was an outstanding year for the Clock Shop and Clock Works; 2016 looks to be even more promising.
We saw a nice steady increase in repairs and house calls for the Clock Shop in 2015 and a good number of sales of restored vintage and antique clocks we offer for sale. The sales floor was reworked as well as the counter/checkout area to allow for better use of floor space and ease of dropping off and picking up of clocks. Truly a great and a truly memorable year for us.
For 2016 we will celebrate our 15th year of having a brick-and-mortar store (although I have been working on clocks for many years prior, this is our 15th year of having a store open to the public) and we are once again expanding our work/production spaces, the refining the offerings made by the Clock Works, and redefining this portion of our business.
Pine Knoll Clock Shop offers repairs, restoration and house calls for all clocks. We are the best known and most respected clock repair shop within 100 miles, being used by several jewelers, moving companies, furniture houses, and universities/colleges/historic groups in the area. We are very pleased to have such an outstanding reputation and constantly work hard to keep and improve.
Clocks brought into the shop are given an oral estimate of repair and current value free of charge to allow the owners to make an informed decision on the repair options. We do not quote one price and surprise the customer with a much higher price when they come to pick up. That is not who we are and we will never operate with questionable ethics.
For 2016 Pine Knoll Clock Works is proud to announce our line of recycled/repurposed clocks know as our "Green Line" has won third place in the National Reuse Contest in the Art & Furniture category. This contest was handled locally by Construction Junction in Pittsburgh. We are now in the running for the Nationwide Award. The Clock Works used as much recycled and repurposed materials striving to be in the 75 percent to 90 percent range of these materials in our products.
The "Green Line" has expanded the offerings to 21 unique items including antique tin clocks, reclaimed window clocks, hand crafted paper face clock, reclaimed lumber log cabin style clocks, coffee and end table clocks, and so many more items. An exciting year!
The Clock Works will be participating in Christmas in the Woods, Columbiana Ohio; WaterFire Sharon, and The German Christmas Market in Harmony this year.
So thankful for 2015 and very much looking forward to 2016!
VISIT USon Facebook; at
pineknollclock.com
,
pineknollclockworks.com
, or follow my blog
www.pineknollclockshop.blogspot.com
. Shop hours are Tuesday through Friday 10 a.m. to 5:30 p.m. and Saturday 9 a.m. to 1 p.m.